Equine Language And Communication Journal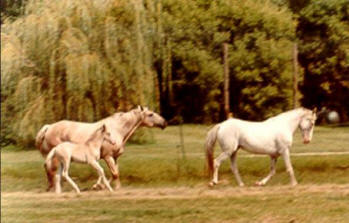 I would like to introduce to you this first-of-its-kind horsemanship tool, it is the Equine Language And Communication Journal by Terry Nowacki - This combination guide and journal will enlighten you on the equine language. This book gives information on newly discovered equine sign and vocal language, much of which has never been put in print before. It provides photograph examples of both primary and secondary sign. There is a special section on scent detection communication that gives examples of sign used in the five different phases of equine air scenting. Besides the valuable information, this book also provides you with categories where you can document, organize and differentiate your own horse's sign language.
To date, very little is understood about the equine language. There have been many books written on the subject of equine body language, but, for the most part, these books just scratch the surface when it comes to actual in-depth equine communication. This is mostly due to the fact that ever since the first horse was domesticated, they were generally thought of as a beast of burden, a mode of transportation, or a pet.
Today the way people are thinking about horses is changing for the better. Many horsemen are realizing the benefits of true natural horsemanship. More and more people are beginning to see how important an understanding of the equine language can be in its use as a horsemanship tool for all training methods. If you want to form a true partnership with your equine, your time would be well spent by learning as much as possible about the equine language. It doesn't matter if your interest lies in owning miniature horses, trail riding, breeding or showing, all horsemen will find value and interest in this book. Studying and recording in this journal will help improve your horsemanship skills, and increase your understanding and appreciation of one of the most amazing noble creatures ever put on the earth-the equine.
Equine Language And Communication Journal - ( loose leaf, hard cover)
Because this Journal offers pages for you to document your own research and notes on sign language, it comes in a loose leaf form along with a three ring binder.
Price = $29.00
Shipping and handling for one book =$9.00
Total =$38.00
If you want this Journal mailed out of the US please e mail me for additional postage rates.
Allow a average time of two weeks for delivery time.
Please make payment to Whirlwind Farms Inc. and send check or money to:
Whirlwind Farms Inc.
32908 310th AVE. N.W.
Argyle Minnesota, 56713