Information on Equine Detection Trainer - Terry Nowacki
Nationally Experienced Clinician

First president and one of the founding members of Marshall County, Minnesota, Sheriff's Mounted Posse, an 85-plus member search and rescue unit.

Professional Horse Trainer - Experienced in training for a wide variety of western events and showing in Quarter Horse breed shows.

President of Whirlwind Farms Inc.

Author of The Air Scenting Horse - A first of its kind equine scent detection training manual and Equine Language and Communication Journal.

K9 Experience - Training dogs for scent detection and obedience.


Photo courtesy of Faye Unrau

Search, Rescue and Recovery Experience - Includes missing person searches, homicide evidence searches, operations leader involved with search planning and organization.

Trained the first certified air scent detection horse.

Trained the first publicly known and proven cadaver scent detection horses.

Trained the first known narcotic scent detection horse.

4-H Horse Project Adult Leader (8 yrs)

Red River Horse Breeders (a two-state regional organization) - I served as Director 12 years.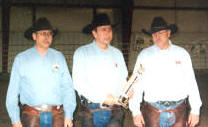 Terry and team accepting award
for statewide Team Obstacle Competition.
Even though my time is very limited when it comes to showing horses competitively, I have had a modest amount of success in statewide and tri-state competition. Some of my awards include AQHA Public Service Award, minor breed national titles, quarter horse show versatility high point, many first placing and campaigning a state champion/record holding race horse . I have experience in training for and successfully proving my methods in a wide variety of events that include reining, working cow horse, western pleasure, trail, patrol horse obstacle competition, halter, team roping, team penning, racing, speed events, and cowboy mounted shooting.
"...The man who really counts in the world is the
doer, not the mere critic-the man who actually
does the work, even if roughly and imperfectly,
not the man who only talks or writes about how it
ought to be done." - Theodore Roosevelt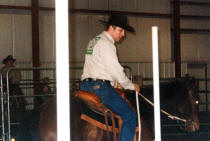 Terry using buttons to maneuver Storm through a back through obstacle. Terry and Storm won first in this state wide competition with a perfect score.
Training and successfully competing in all the different disciplines as mentioned above has given me a unique advantage as a versatile trainer. (For example, the average pleasure class horse people do not think that the speed event people have any outstanding horsemanship skills, and visa versa. ) Through experience, I have learned that each discipline and event offers its own needed specialty skills, all of which are needed for developing the all-around horseman. My training program uses a blend of skills learned from my experience and from reading equine sign language. Negative reinforcement is mainstream in traditional horsemanship while positive and self reinforcement is mainstream in my training programs. If I were asked to pick one single success story that proves how my innovative training program can develop a true working bond/partnership with your horse it would be the following;
Terry and Storm (Scent Detection Horse) won the individual patrol horse obstacle competition put on by Wadena County, MN, Mounted Patrol and Wadena Sheriff's Dept. on March 29 and 30, 2003. They won this competition with a perfect score of 180 points out of a possible 180 points. This was a major competition attended by approximately 60 entries coming from all over the state of Minnesota. Terry and Storm also placed second as a part of a three-man team in the team competition. Storm is just turning five years old, and this was his first competition.
| | |
| --- | --- |
| | |
| Photo by Sharp Shooter Photography | My daughter Sarah Nowacki continues to use my training methods as she excels in state and tri-state major competitions. |